My currently published books are available on my eBay store!
---
Quietus: Last Flight Accident Proneness in WWII, Wartime Aviation Stories on the Canadian Home Front

In 1948, Hugh Burns Hay, a decorated Second World War navigator returned to university to finish his medical degree.

As a part of his studies, he requested sixteen pilots' files from the RCAF in an effort to identify 'accident proneness'. Generously illustrated, Quietus: Last Flight offers a unique insight into war on the Home Front in Canada, as well as a glimpse into post-war aviation research.
Published by the Bomber Command Museum of Canada, Quietus is scheduled to be released in the Fall of 2017.
---
She Made Them Family: A Scrapbook from the Prairies, is a collection of letters,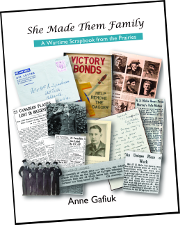 photos, anecdotes, magazine and newspaper clippings from The Second World War compiled by Mrs. Alice Spackman, Okotoks, Alberta.
Here's an inside look at the scrapbook.
The book is available at:

Shelf Life Books


The book is also available directly from Anne, at the Okotoks Art Gallery, as well as the Bomber Command Museum of Canada.
---
Wings Over High River, Conversations with A. Gordon Jones, The Biography of a BCATP Pilot Instructor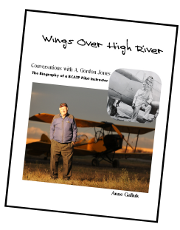 Gordon Jones trained and later bacame an instructor as part of the British Commonwealth Air Training Plan (BCATP) at High River, Alberta during WWII.
Tribute articles from the Calgary Herald and High River Times

Vintage Wings - A web article... Me and Mr. Jones!

Bomber Command Museum of Canada

Book is available online through the Bomber Command Museum, as well as their gift shop.

Book Reviews

COPA Magazine ... "delightful, yet compelling" - a review by Adam Hunt

Airforce Magazine Baking, Bribery, and a Tiger Moth
Down Under!
... A 'Pre-Review' is here.