No. 31 Elementary Flying Training School 75th Anniversary Commemoration was held on June 15th, 2016

Okotoks Online 75th anniversary coverage with lots of pictures from the event
75th ANNIVERSARY COMMEMORATION on June 15th, 2016 - 1:00pm.
CBC Calgary article about the base
CBC Homestretch article featuring Don Laubman
Calgary Herald Former RAF base, Station De Winton, celebrates 75th birthday
---
Okotoks / De Winton Scrapbook Project

She Made Them Family: A Scrapbook from the Prairies, a collection of letters, photos, anecdotes, magazine and newspaper clippings from The Second World War compiled by Mrs. Alice Spackman, Okotoks, Alberta.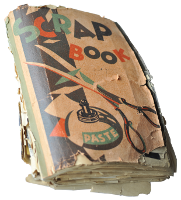 Here's an inside look at the scrapbook.
Book Launch was held Sunday November 8th 2015 at 2pm at the Rotary Performing Arts Centre Okotoks
The book is available at ...

Shelf Life Books For independent minds and spirits, at the corner of 4th Street & 13th Avenue SW
Press Coverage

Peachland View A few factual errors, but coverage of my presentation
Okotoks Living Brittle Pages, on page 15
CBC's The National with Carolyn Dunn
CBC Calgary ... a more local take.
Okotoks Western Wheel Foothills in Wartime

Okotoks Online Wartime history depicted in a scrapbook
Rocky Mountain Outlook Poucette's legacy lives on
Okotoks Western Wheel Story is on Pages 19 to 30.
---
George Crewe

Elinor Florence: Tales from an Old Tar
For Posterity's Sake: HMCS Quinte
---
Bob O'Connor

Calgary Mosquito Society
---
WWI Stained Glass Window at Scarboro United Church, Calgary


Scarboro United Church vignette.
Central United Church WWI Soldiers Memorialized in Bronze

Pte. John Fisher, Canadian 5th Battalion
---
Gordon Jones

Gordon Jones passed away Sept 10, 2013
Tribute article from theHigh River Times

Vintage Wings - A web article... Me and Mr. Jones!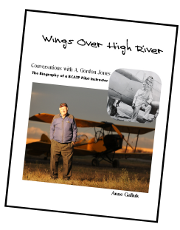 Bomber Command Museum of Canada

Television Coverage

CBC National - with Peter Mansbridge!!
CBC Newsworld - Local news version

Newspaper

Bomber Command Museum of Canada Newsletter - Spring 2013, Page 12
The Calgary Herald - Valerie Fortney interviewed Gordon, his daughter Mary‑Ellen, and me... The story ran January 3, 2013
Alaska Dispatch
Nanton News
Okotoks Western Wheel - Gordon's story is on pages 6 and 7.

Gordon Jones trained and later became an instructor as part of the British Commonwealth Air Training Plan (BCATP) at High River, Alberta during WWII. His biography, Wings Over High River, took-off on Saturday, December 1st at 1:30 pm. The book launch was held at the Museum of the Highwood, 406 First Street S.W.,
High River, AB.

Book is available through the Bomber Command Museum's Gift Shop, or directly though Anne.

Book Reviews

COPA Magazine ... "delightful, yet compelling" - a review by Adam Hunt

Airforce Magazine Baking, Bribery, and a Tiger Moth
Down Under!