On Saturday, June 23, 2012, long time Alberta Flying Farmer, 89 year old Gordon Jones, was presented with the Canadian Owner and Pilot Association's Award of Merit for his "many years of flight instruction, flying school management,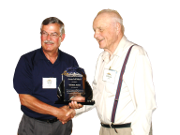 advocacy and advancement of General Aviation in Canada" by Kevin Psutka, President of COPA at their Annual National Convention at the Saugeen Municipal Airport located near Hanover, Ontario.
With over 17,000 members worldwide, COPA, Canada's largest pilot association, celebrated its 60th anniversary this year. Gordon, a member since the mid-1970's, was presented his beautiful etched crystal tribute, with a photo of Gordon and his Tiger Moth displayed on the huge screen behind the podium,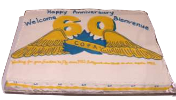 in front of almost three hundred delegates at the luncheon held in the hangar at the airport. With many cameras aimed at him, Gordon laughed, "I am not used to smiling so much."
Gordon explained his contribution: "I got to be the Executive Secretary for Canada for the Alberta Flying Farmers (AFF); they wanted a member of the AFF to sit on the Board to promote different things including flights over cloud. In those early days, soon after I joined the AFF in 1968, there was a trip sponsored by the Flying Farmers to Alaska. The group ran into low cloud. They tried to fly under the low cloud for fifty to sixty miles and they collided. Everybody was killed. This was my argument to say they should have been allowed to fly above the cloud.
"After about four or five years, Transport Canada did change the rules to allow people to fly over the clouds when the visible flight rules (VFR) were good...as in where you have started from was VFR and where you were going had to be good VFR, then you could fly over the clouds enroute. This had to be put down on the flight plan. (The States did this years earlier.) First Transport Canada would not even talk to me! COPA then backed my resolutions I put forth. Finally Transport Canada changed the rules."
It was a proud moment for Gordon and his wife Linora, who travelled from High River, Alberta for the event.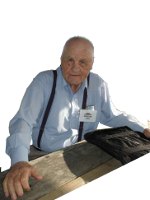 "I'd like it to be where there are a lot of COPA members present," he added when he found out about the award earlier in the spring, as an option was to have the award presented to him closer to home. He also mentioned "a handful" of his former students are now West Jet pilots. "I'd like to be able to tell them what I thought of their take off and landings," he joked.
In August of 2011, while flying his vintage 1942 Tiger Moth over his prairie town, he declared, "There is nothing to stop you from going wherever you want to go up here...no stop signs, no traffic lights..." true to form and to the theme of the conference: "Keeping your freedom to fly..."
Originally published
July 2012 AFF Newsletter
Vol 4 Issue 3