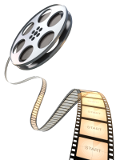 I am the proud caretaker of our grandfather's projector... when I see it, I am filled with so many pleasant memories from childhood.
My mother comes from a family of eight children, growing up on a farm east of Carstairs, Alberta. Her father, John W. Taylor, had a love of photography beginning when he was a young man in the early 20th century, so it was not surprising when he bought a camera that took moving pictures later on! We have film from the 1950's all the way to the late 1970's, including Christmas dinners out at the farm, horseback rides, family reunions, Thanksgiving in the city, one of the seventeen grandchildren's birthday parties, vacations up to the mountains or to California, and a quite a few of the Carstairs Stampede and Parade including their infamous fireman hose water fights!
If I surveyed my cousins and brother, I have no doubt the favourite home movie was not of someone opening a present or going on a specific trip... it would be the movies featuring us being together... seeing us as babies, then toddlers, youngsters and teenagers... our parents, grandparents, aunts and uncles close by, encouraging some form of movement. It was a movie camera, after all! This included us running up and rolling down some hills, tobogganing down others, splashing around in a backyard inflatable pool, skating, sharing meals, or playing checkers. We loved when Grandpa would play the movies backwards... how we would laugh! This old projector... the stories it could tell... and did!
When we were growing up, the only time we could watch the movies was at our grandparents' home, first at the farm, then later in the city, unless Grandpa and Grandma brought the projector in its original cardboard box with them to one of the aunts' and uncles' houses, along with a good selection of home movies.
We have since transferred those 8 mm home movies to VHS tape and then again to DVD format for easier viewing, distributed among family members who wanted a copy for themselves. Sadly now, the projector sits under the stairs, rarely, if ever used. The next time we do get together, I will bring out Grandpa's projector... and put on some movies, not forgetting to watch a few in reverse! The stories! Oh, the stories!